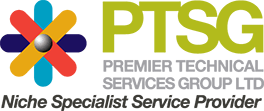 Premier Technical Services Group Ltd (PTSG)
+44 (0) 1977 668 771
About Us
Premier Technical Services Group Ltd (PTSG) is the UK's leading provider of specialist services to the construction and facilities management sectors.
Starting out in 2007 with just a handful of industry specialists, the Group has expanded year on year through a combination of strategic acquisitions and organic growth. Today, it is the single provider of the full range of specialist services to the FM and construction sectors.
The Group's five business divisions can operate independently or combine to deliver a complete specialist services solution including: façade access and fall arrest equipment services, lightning protection and electrical compliance testing, high-level services, fire and security solutions and water treatment and hygiene services.
Headquartered in Castleford, West Yorkshire, PTSG has 47 centres of operation throughout the UK, employs over 2,300 industry specialists and has over 20,000 customers.
Our approach to safety is influential in the industry and we have received ten consecutive Golds from RoSPA, arguably the most rigorous judge of health and safety in the world. Much of our work is safety-critical, often performed at height. We will never compromise – if a task can't be completed safely, we won't do it.
Customer service excellence remains the ultimate goal in all of PTSG's endeavours and its current contract renewal rate has remained above 88% for over ten years. In 2017, PTSG reorganised its business, creating Fire Solutions Ltd in response to the demand for building operators to adhere to strict fire safety standards, particularly in tall buildings. Since that time, Fire Solutions has become our fastest growing area of business.
In May 2021, PTSG Water Treatment Ltd became our fifth business division, delivering water hygiene and treatment products and services across the UK. This builds further still on our ambition to provide a full complement of specialist services its existing customers, while appealing to an ever-increasing range of customers.
Services
PTSG Access & Safety Ltd
We design, install, test, inspect and repair fall arrest systems to maximise the safety of building users and enable operatives to work safely and effectively.
PTSG Electrical Services Ltd
We are the UK's leading supplier of lightning protection services, surge protection and specialist earthing solutions. We also deliver innovative electrical compliance solutions.
PTSG Building Access Specialists Ltd
We perform a range of at-height services to access the seemingly inaccessible. This includes window and cladding cleaning, roof and masonry repairs and signage installation – and dedicated steeplejack services.
PTSG Fire Solutions Ltd
Our solutions keep people, property and places safe in all industry sectors. We design, install and maintain sprinklers, dry and wet risers, fire hydrants and pumps, fire detection and life safety systems, passive services and security devices.
PTSG Water Treatment Ltd
We offer a comprehensive range of solutions in industrial water treatment and water hygiene, combining the specialist skills of our engineers with the very latest cutting-edge tools to deliver high performance, safety and reliability.
News