An interview with Tony Seddon, Company Secretary of SAEMA (Specialist Access Engineering and Maintenance Association) by PASMA (Prefabricated Access Suppliers' and Manufacturers' Association) has given a refreshing insight into the approach taken to height safety – both from the beginner's point of view and that of a seasoned expert.
You can read the interview here: https://pasma.co.uk/news-detail/?id=73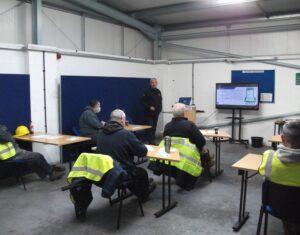 Tony recently took the PASMA Towers for Users course with Shropshire County Trainers, one of PASMA's approved providers.
"I chose PASMA as it is the recognised body for this equipment," explained Tony. "It's the right place to go; I didn't consider any other type of training. Plus, I've seen first-hand how dedicated PASMA is to keeping tower users safe.
"I can't stress too strongly the critical importance for people who use height safety equipment to take the appropriate training."
Towers for Users is PASMA's flagship course, attracting in excess of 70,000 delegates a year, is aimed at personnel who will be responsible for assembling, dismantling, moving and inspecting mobile access towers when using 3T or Advance Guardrail (AGR) systems.
In the interview with PASMA, Tony recalled his experience many years ago of putting up a self-made tower at home using planks for a platform. He shudders to think of the threat that must have presented to his safety!
Tony is now a well-known and respected figure in the at-height industry. As well as being the Company Secretary of SAEMA, he also manages FASET (Fall Arrest Safety Equipment Training) and WAHSA (Work at Height Safety Association).